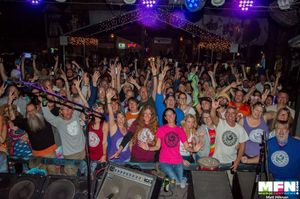 Band Biography
Formed in 1989 in Clearwater FL, Uncle John's Band has kept the Grateful Dead fire aglow in the Southeast for nearly three decades. With three generations of fans spread across the U.S., UJB has provided thousands of deadheads with their weekly dose of authentic live Dead music. Returning visitors to Tampa Bay join locals at the legendary Skippers Smokehouse for UJB's weekly house gig, now running for over almost 1000 Thursdays, and frequently streamed around the world via Livestream. In its 20-year residency at Skippers, UJB has shared the stage with notable guests including Grateful Dead alums & related artists John Kadlecik, Tom Constanten, Vince Welnick, Merle Saunders, Melvin Seals, David Gans, and New Riders of the Purple Sage. Other noted guest sit-ins include Jeff Mosier and Jake Shimabukuro. 
With this much history and community, it makes sense that Uncle John's Band was invited to play for a VIP party at Chicago's Field Museum each afternoon of the Grateful Dead's 3-day 'Fare Thee Well' run at Soldier Field in 2015. In addition to regular appearances on the Florida festival circuit, UJB's reputation for excellence has allowed the band to maintain a consistent year-round schedule at many of Tampa Bay's favorite venues. 
In a world overflowing with Grateful Dead inspired tribute bands, it is rare to find one that consistently captures the essence and groove of the Dead's engine firing on all cylinders. It requires the right combination of gritty improvisational-minded musicians with a wide palette of individual influences. It requires channeling the Dead's unique sounds and styles, while avoiding the suffocation of mimicry. Finally, time is of the essence, lots of it. There are no shortcuts to developing the mind-meld that allows six musicians to communicate improvisationally and naturally through the Dead's large and stylistically diverse repertoire.